Feature:
Silicone bristles rather than nylon bristles, so it can give you soft and effective cleansing and messaging. What's more, it can get washing easily and thoroughly to keep more hygiene.
Powerful battery provides a long period of service time, no need to be charged frequently.
It designed with a pointed end so it can get into the nooks and crannies around the nose.
Offering variable intensity levels option, more versatile, more flexible, suitable for all skin types including acne prone, sensitive skin.
Ultimate motor delivers appropriate yet powerful vibration. Not only it can cleanse more makeup and pores, remove blackheads, reduce breakout, but it can deeply massage your skin, bring energy to your face, and achieve better skin products absorption. You will feel smooth, refreshed and glows after using it.
Specification:
| | |
| --- | --- |
|   Material |   Food-grade silicone + ABS Battery |
|   Capacity |   200mAh |
|   Charging Time |   2 hours |
|   Using Time |   30 days(Twice a day, 2 minutes each time) |
|   Waterproof Level |   IPX7 |
|   Vibration Frequency |   6,000rpm/ minute |
|   Color |   Rose red/ Pink/ Green /Blue |
|   Size |   13*5.5*3.2 cm |
|   Weight |   94g |

Package content:
1 x Facial Cleaning Brush
1 x USB charging cable

1 x User manual(Chinese/ English)
Pack in the original box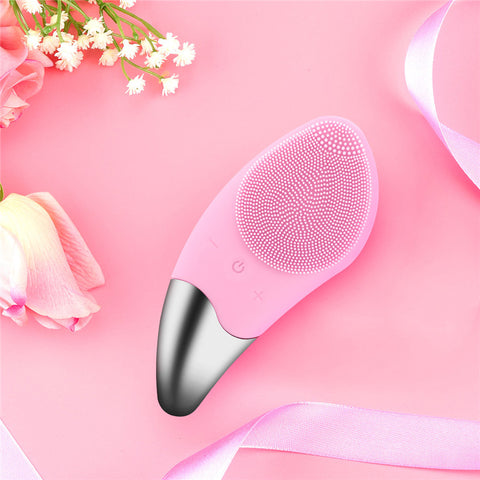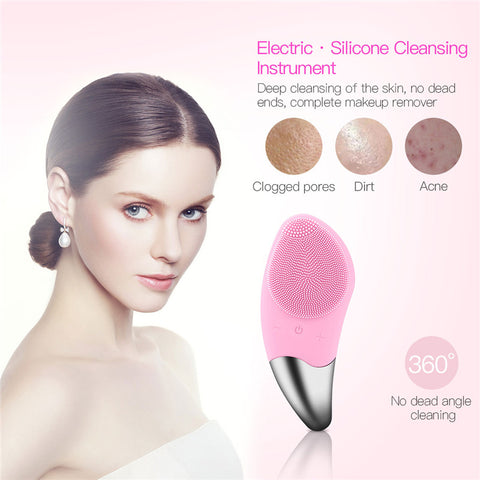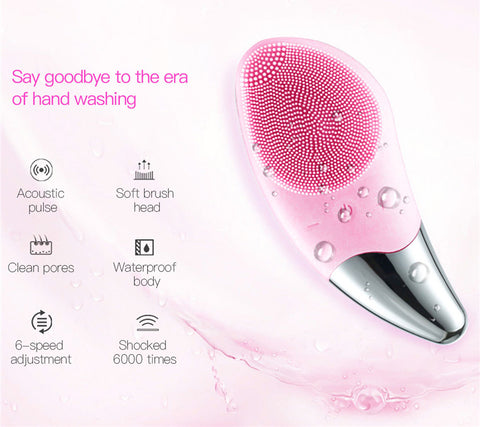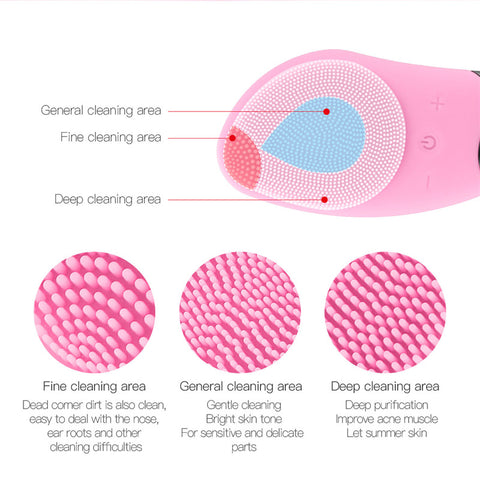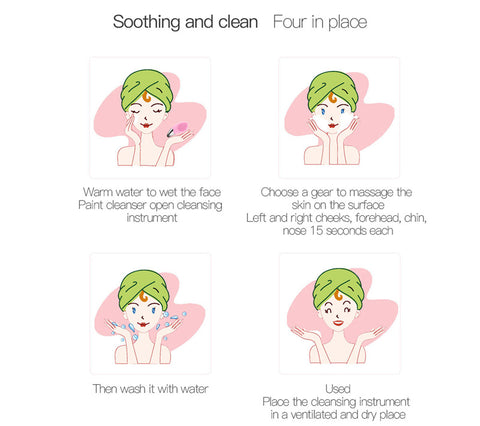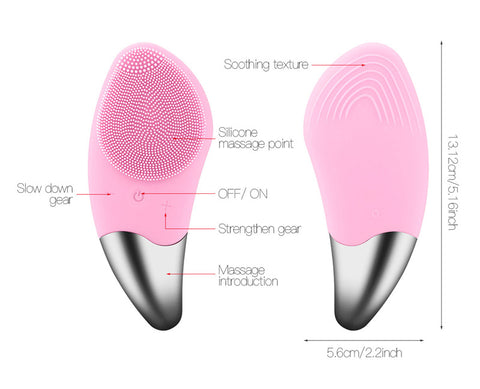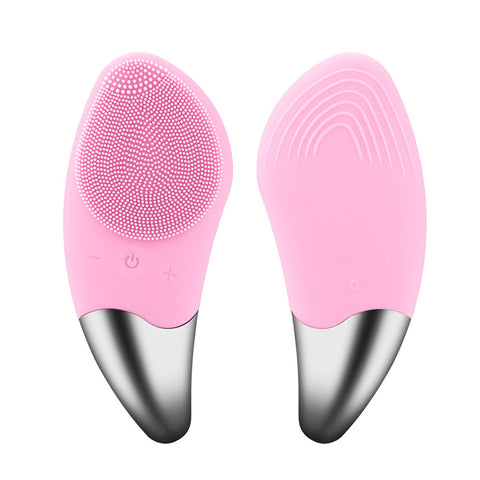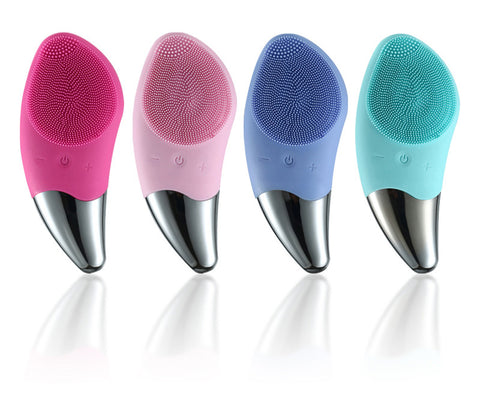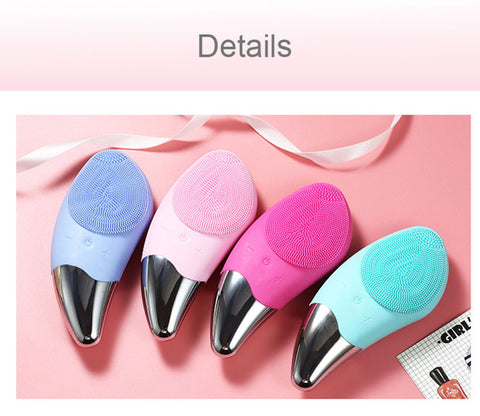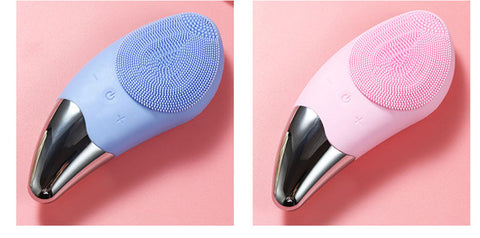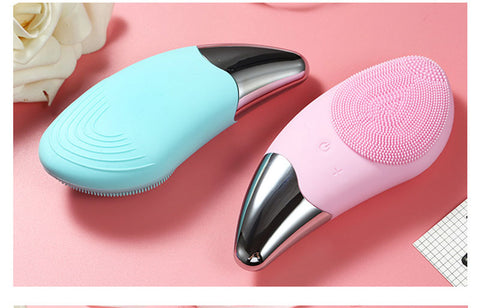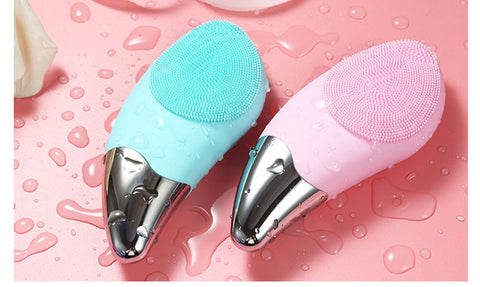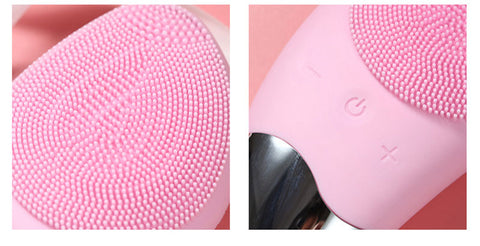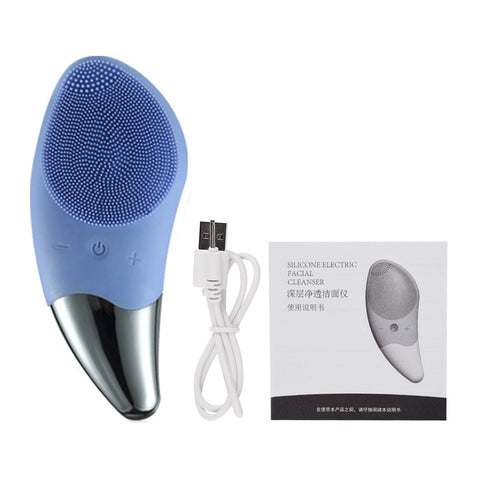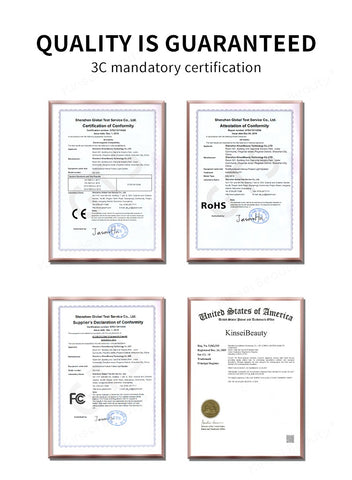 Mini Electric Facial Cleansing Brush can remove skin dirt, grease and residue, also can promote the blood circulation in the wrinkle-prone area and accelerate the production of collagen and elastin, thus for restoring skin firmness and elasticity. It is suitable for various skin types.

Mini Electric Facial Cleansing Brush can help you smooth out fine lines and wrinkles. The metal area at the bottom has a special negative ion induction function, when you use the skin care essence, this function can promote the absorption of nutrients in skin care products, easily solve the problem of sediment after using skin care products, at the same time massage facial muscles improve skin elasticity and restore skin firmness and elasticity.

It is made of SILICONE, which is easy to clean and dries quickly, it will not breed bacteria, MUCH MORE HYGIENIC THAN BRISTLES BRUSH. After strict technical certification, this facial cleansing brush is as soft as hands to the skin without stimulation, when cleaning and massage, it will not damage the skin barrier, ESPECIALLY SUITABLE FOR SENSITIVE SKIN.

The improvement of skin cannot be completed overnight, if you want to refresh your skin, you need to stick to this facial cleansing brush for a long time.

In addition, this facial cleansing brush should be washed and dried in time after use. We provide 2 YEARS WARRANTY for this product. If you encounter any problems in use, please feel free to contact us, we will solve them for you as soon as possible.